Millbrook vs. Mill Brook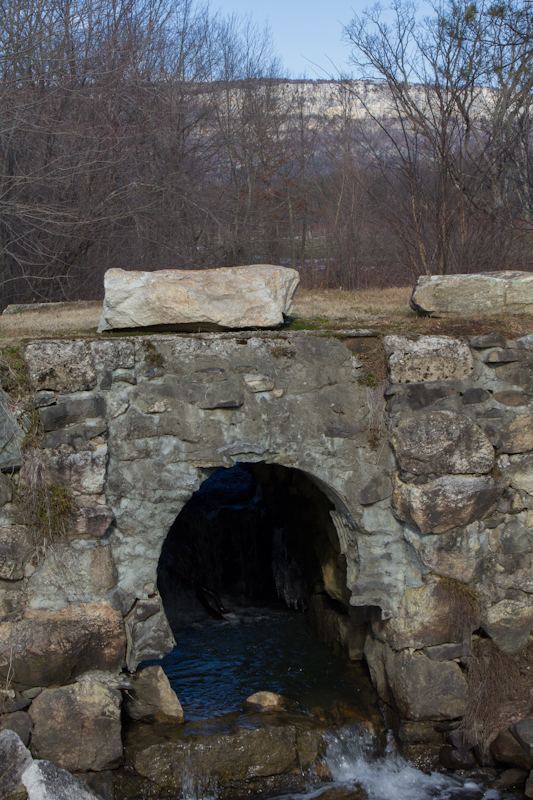 Mill Brook passes beneath the site of the abandoned mill near the end of McKinstry Road in Gardiner.
&nbsp The name
Millbrook
mentioned within a group of climbers conjures up images of a tall white cliff enshrouded in mystery and tales of adventure, but the namesake of the most formidable cliff on the Shawangunk escarpment could not have a more benign source. In the early 1700's a small stream not far from the base of the cliffs had been dammed to harness the waterpower to run a grist and bolting mill.
[1]
On a map dated 1860 the outlet of this dam is labeled Mill Brook which is the first recorded reference local author Marc B. Fried was able to find in his research for his book
Shawangunk Place Names
.
[2]
&nbsp Mr Fried's commentary is apt from a climbers viewpoint as he remarks,
"It may seem absurd for anyone to have named this looming precipice after such a piddling stream, but what the Mill Brook lacks in physical stature is at least made up for with its long history of service to local history. Today, however, the pond has been drained, and the brook trickles along in anonymity, under the gaze of the mighty escarpment that is its namesake."
It is not likely that the farmers who worked the land beneath the cliff ever considered climbing such a cliff but a visit by Fritz Weissner in 1935 would make Millbrook the site of the first technical rock climb in the Gunks.
[1] [2] Fried, Marc B.
Shawangunk Place Names
, (Published by the author) p107-108.