Cuckoo Man 5.10
FA 1981: Rich Romano & Chuck Calef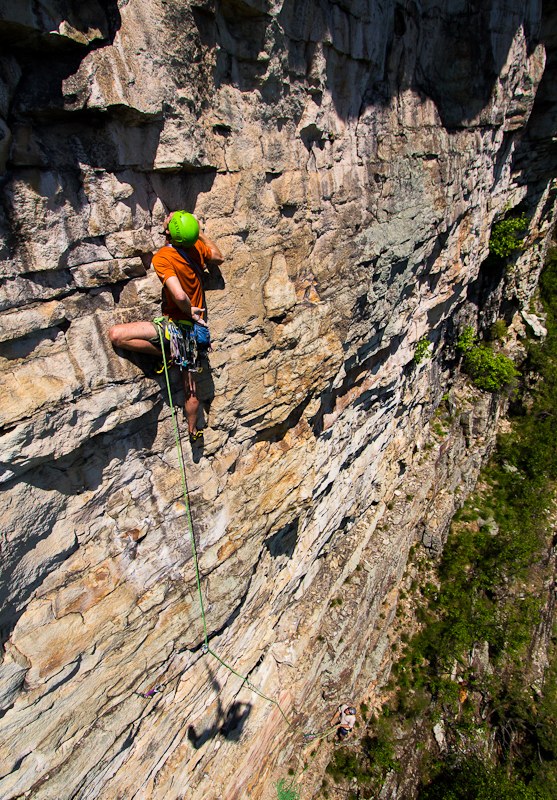 Tom Chervenak treading lightly on the initial run-out of Cuckoo Man
&nbsp
Cuckoo Man
is a popular route by Bank standards in that it gets climbed multiple times each season. As a result of this traffic Cuckoo Man has become stripped of much of the loose rock prevalent in the first band off Death Ledge. Still, loose and hollow flakes exist on the first pitch and getting off route will quickly lead one to experience rock similar to that found by Rich Romano and Chuck Calef on the first ascent. Add to this that though the initial climbing is not particularly hard it is steep and poorly protected. Once the first major roof is reached the rock quality rapidly improves and remains so for the remainder of the route. Though all three pitches involve 5.10 cruxes it is most likely the 5.8 run-out that will get embedded in your memory.
&nbsp
Cuckoo Man
, along with
Diaper Man
, get their names from characters from "The Mighty Heroes", the 80's cartoon. Approaching
Cuckoo Man
from the
Westward Ha!
rappel one crosses under the large right facing corner of
Remembrance of Things Past
and the Asteroid Belt begins. This section is home to some serious but spectacular face climbing. The Asteroid Belt gets its name from the copious amount of loose rock that rained down during the 80's as climbers cleared the larger loose holds from climbs. Today, the routes
Rings of Saturn 5.11+ X, Orbit of Jupiter 5.11 X, and Asteroid Belt 5.11- 5.10X
depart from Death Ledge without providing an opportunity for reasonable gear for approximately 80 feet. As late as 2012 it is likely that the route
Asteroid Belt
had seen only five ascents. With this in mind
Cuckoo Man
may seem reasonable in comparison to its neighbors, but don't let this cloud your judgement.
Cuckoo Man
is a step-up in commitment from
The Time Eraser
but is a splendid line for those with proper experience and judgement.

Peter Guyre looks on as Tom Chervenak stitches up pitch 2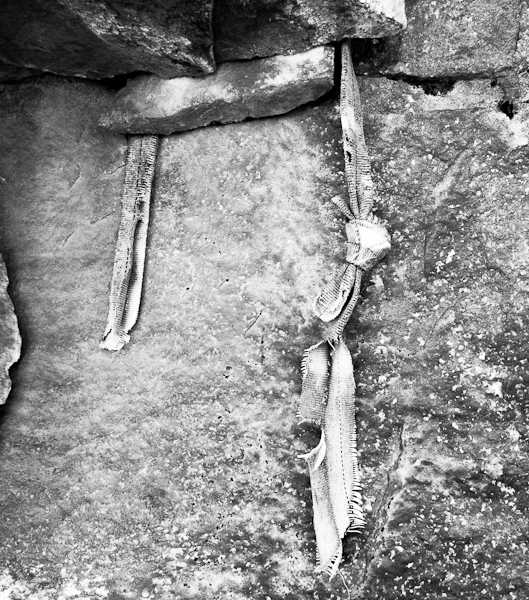 Tattered 1" tubular webbing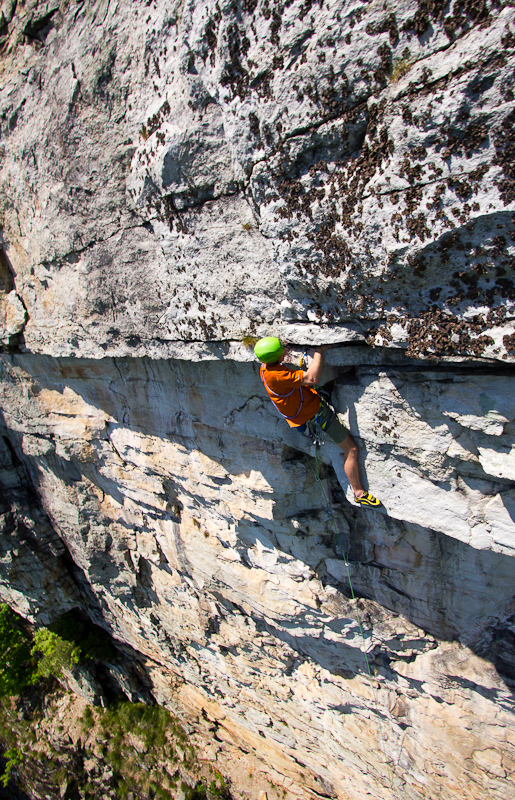 Tom Chervenak happy to be plugging gear in solid rock on the first pitch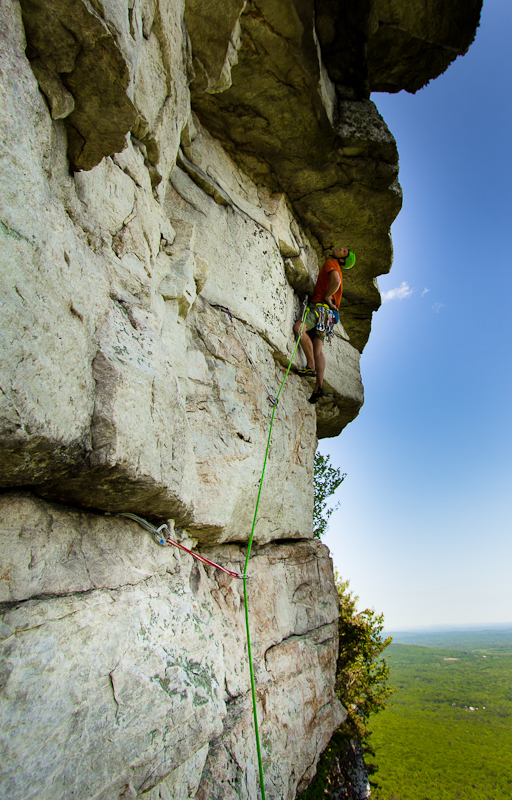 The final pitch delivers some fine climbing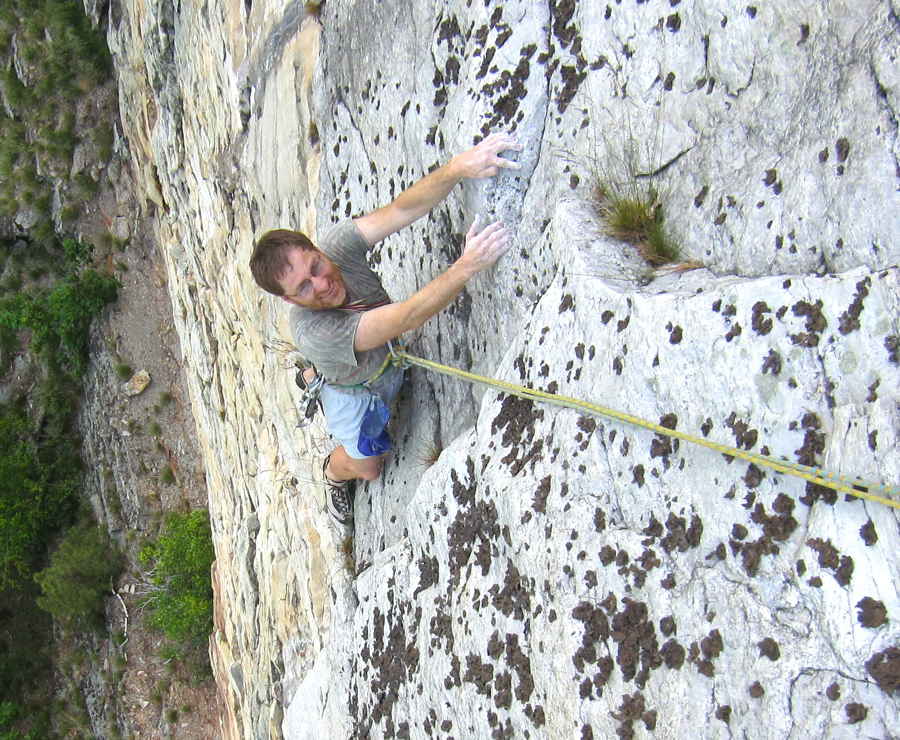 The Bank Manager himself on Cuckoo Man
Notice the Crown Royal sack being used as a chalkbag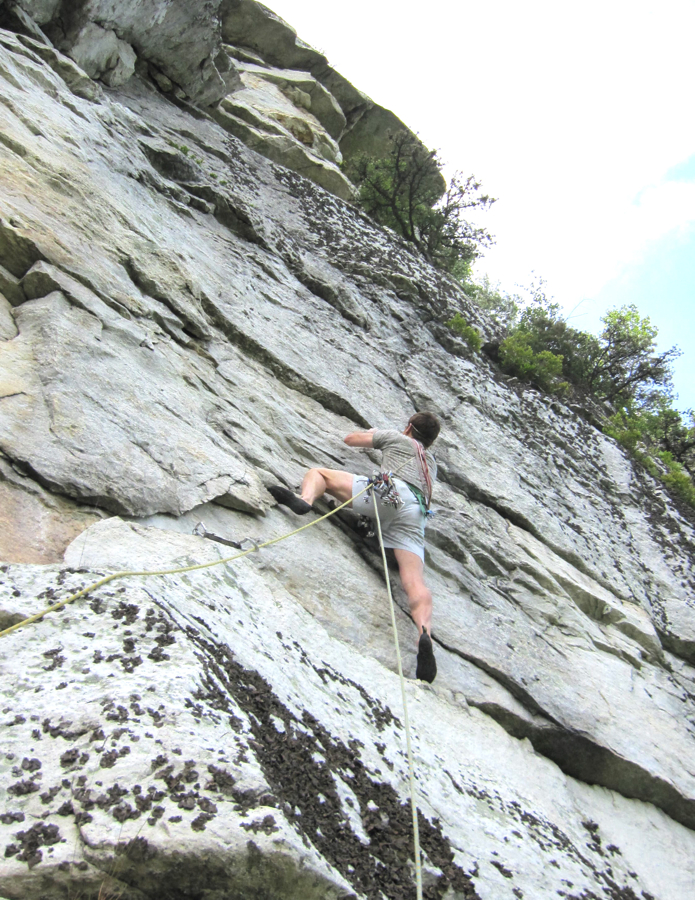 Rich Romano leading pitch 2 in his characteristic swami belt