Westward Ha! 5.7
FA 1962: Jim McCarthy, Harry Daley, & Hans Kraus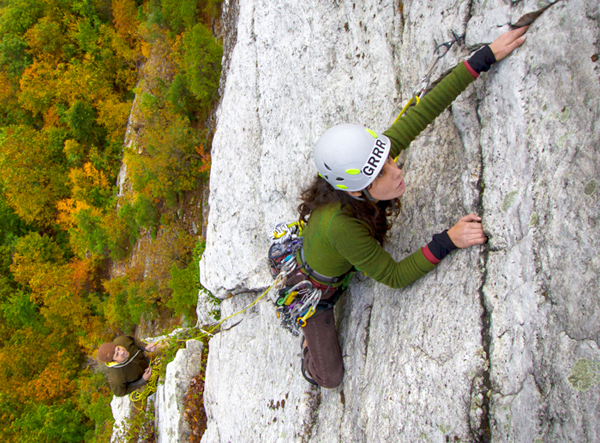 Meghan Davis on the steep final headwall of Westward Ha!
Millbrook climbing really begins to shine when one ventures out onto one of the gleaming white headwalls, and that is precisely where this route goes. At the time of the first ascent only fourteen routes had been climbed at Millbrook. Of the fourteen all but 4 were aid climbs so
Westward Ha!
was a break with the dirty large corners previously climbed. It was 1 of 3 free routes McCarthy would establish, his other 7 ventures all went on aid, most being freed by John Stannard within the same decade.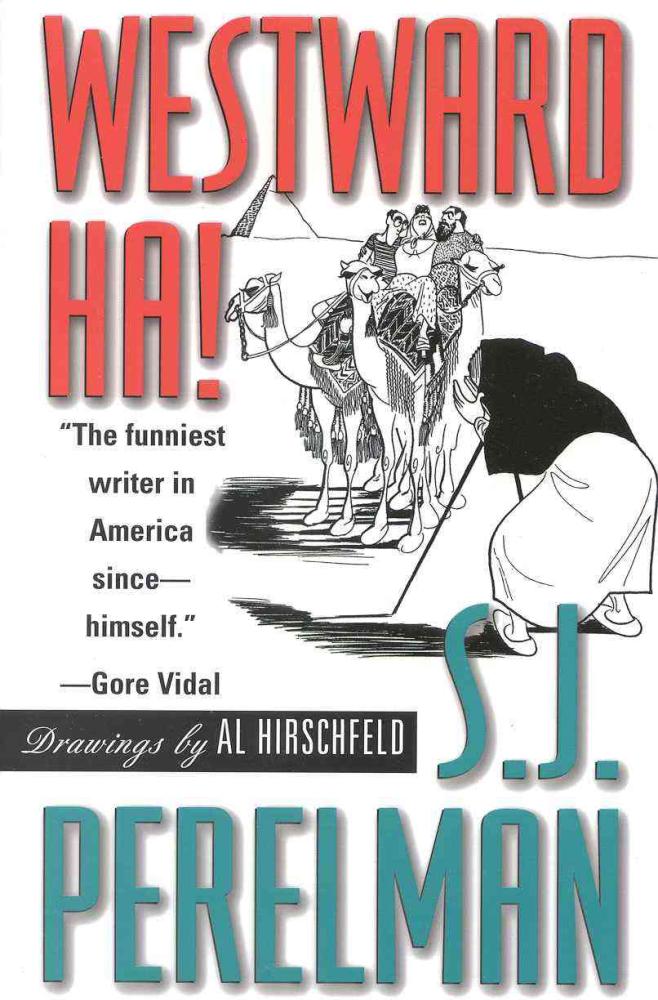 To this day
Westward Ha!
forms most climbers introduction to Millbrook. There are several good reasons why this is so. Most climbs are approached by the only fixed rappel station which is composed of a few slings around a giant Pine tree that sits directly above the route. At 5.7 the climbing is never hard, the protection is good, and the climb itself is quite appealing. Before venturing out on the harder climbs at the Bank it is wise to become familiar with
Westward Ha!
as it provides a straightforward escape route should the weather make a turn for the worse or should climbing out from the surrounding difficult climbs prove to be too difficult. Another aspect that makes this route appealing is that it is possible to skip the initial 25 feet of semi-loose climbing by stopping at a small pine tree ledge at the base of the large corner. However, those interested in climbing other Bank routes would benefit from exposure to this type of steep and loose climbing which characterizes the start of so many other climbs.
It is presumed that the route is named for humorist S.J. Perelman's 1948 travel chronicles of the same name.
"In no time at all-- five minutes, to be exact--we were laughing and chatting away as though we had known each other five minutes."
from the pages of
Westward Ha!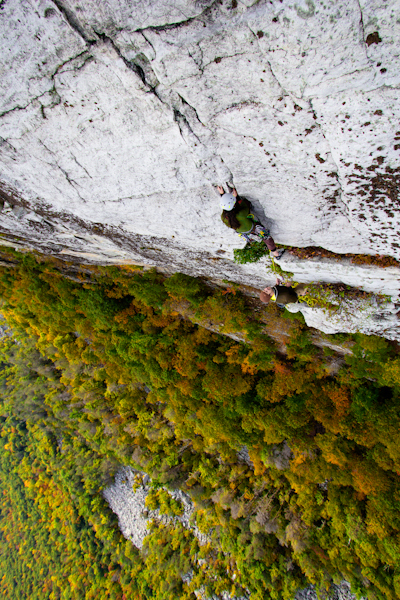 Meghan Davis about to leave the security of the last belay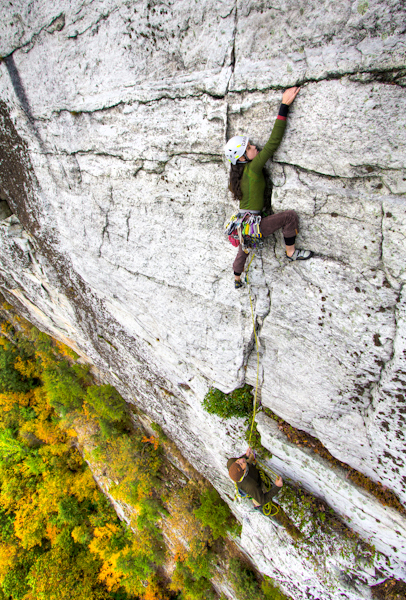 Early Fall climbing at its best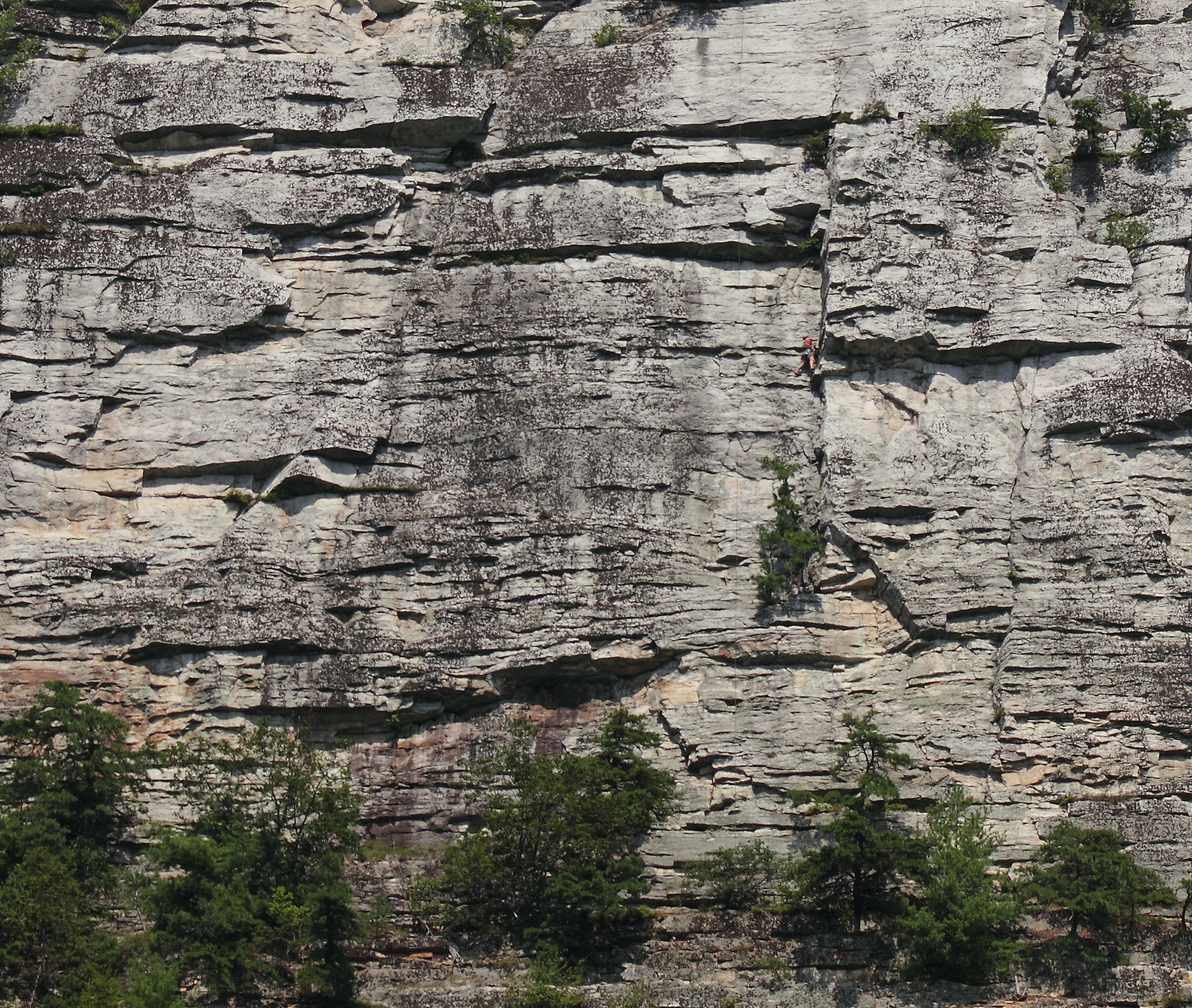 A climber stems the steep corner on pitch 1